Order from our website and get a signed copy!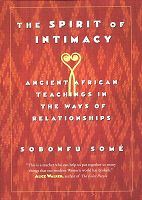 THE SPIRIT OF INTIMACY
Ancient Teachings in the Ways of Relationships
by Sobonfu E. Some
William Morrow 02/99 Hardcover

ISBN: 0-688-16450-1
Sobonfu generously applies the subtle knowledge from her West African culture to The Spirit of Intimacy. Simply and beautifully, she reveals the role of spirit in every marriage, friendship, relationship, and community.
She shares ancient ways to make our intimate lives more fulfilling and secure and offers powerful insights into the "illusion of romance," divorce, and loss. Her important and fascinating lessons from the heart include the sacred meaning of pleasure, preparing a ritual space for intimacy, and the connection between sex and spirituality.
Her ideas are intuitively persuasive, provocative, and healing–and supported by sound practical advice, along with specific rituals and ceremonies based on those used for thousands of years. With this book, the spiritual insights of indigenous Africa take their place alongside those of native America, ancient Europe, and Asia as important influences on Western readers.
The Spirit of Intimacy has been translated into four other languages German, Swedish, French, and portuguese.