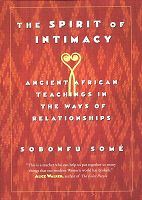 THE SPIRIT OF INTIMACY
Ancient Teachings in the Ways of Relationships
by Sobonfu E. Some

» Find on Amazon
William Morrow 02/99 Paperback
ISBN: 0-688-16450-1
Here is a cross-cultural masterpiece filled with fresh and eminently practical ideas about restoring meaning and purpose to community, marriage, and family. Sobonfu Some was born and raised in Dano, Burkina Faso, a West African village of 200 people. There she learned that spirit — the life force in everything — is what animates all relationships. Her name means "keeper of ritual" and she conducts seminars and workshops around the world on the relevance of indigenous ideas and practices to modern problems.
"I see so many romantic relationships in the West being driven by control and ego. To bring these relationships back to health, people must begin to see that spirit is behind their being together and to put control and ego aside," Some writes. Intimacy is "the song of spirit" and community is the divine orchestration that sustains the melody. The author shows how rituals of renewal and cleansing are necessary to nourish a marriage.
Some has many wise things to say about the illusion of romance, the link between sex and spirit, conflict in a relationship as a wake-up call to remind us of purpose, and the role of the ancestors and friends in sustaining marriage. The Spirit of Intimacy stands head and shoulders above most popular resources on relationships. It offers deep wisdom that has been proven by the test of time.
_____________________________
This article can be found at http://www.spiritualityandpractice.com/books/books.php?id=6590. Reprinted with permission from SpiritualityandPractice.com