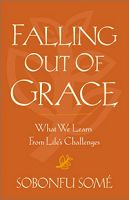 FALLING OUT OF GRACE
Meditations on Loss, Healing and Wisdom
by Sobonfu E. Some
North Bay Books 08/03 Paperback
ISBN 0972520023
If I were to recommend one new book as essential reading this summer, it would be Sobonfu Somé's "Falling Out Of Grace: Meditations on Loss, Healing and Wisdom."
On nearly every page I found pithy, profound passages so startlingly applicable that I needed to share them immediately with friends–words that often pertained exactly to a discussion I'd just had with someone, or to a situation we'd been pondering.
A member of the Dagara tribe in Burkina Faso, Sobonfu first emerged from traditional life in her tiny West African village very reluctantly, at the urging of her elders, who recognized her gifts and destiny. She remains deeply connected to the life of her village and to her elders, sharing the profound wisdom of her own ancient traditions while learning to navigate the perilous, promising, inevitable interface with "modernity."
Her thought-provoking insights and observations have proven popular around the globe. Her first book, Spirit of Intimacy: Ancient Teachings in the Way of Relationships has been translated into five languages. Alice Walker recently cited Somé's second work, Welcoming Spirit Home: Ancient African Teachings to Celebrate Children and Community, as her favorite book. I myself devoured that one in about 48 hours, and found my world forever widened.
This latest book hits even closer to home. Deeply personal and unsparingly reflective, it grew out of personal tragedy.
"One day my world fell apart…. In those days I felt so small and pitiful that I thought even death would reject me."
Falling Out Of Grace describes the concentric circles of relationship, family, community, culture, and universe that are meant to support us in a state of alignment and harmony with our own center, with other beings, with our life purpose. It looks at what happens when they fail.
"Falling out of grace shakes us up. It reconnects us to the larger universe in order for us to see ourselves anew. It forces us to rediscover where our true center begins, and to learn what needs to be set aside."
In reflecting on her own experience, Sobonfu offers her bracingly unique and intriguing perspective on topics from Family and Intimate Relationships to Leadership and even Death–all in the context of falling from and restoring a state of grace. In a world that seems to have fallen seriously out of grace, these observations offer hope and perhaps some navigational aides to steer by.
Take this example from her chapter on Leadership:
"One challenge I have observed is that communities in the West sometimes want to put certain people on a pedestal, to make them larger than life…. Leadership is…a skill just like painting or storytelling or haircutting or anything…. Leadership doesn't make people superior beings. It just makes them good at what they do–at leading." The Mossi of Burkina Faso have a saying: 'A king is as good as the people he rules.'…If we see a problem, rather than saying to our leaders, 'Why can't you fix it?' we need to say to ourselves, 'Here's an area where our help is needed.'"
I like to fantasize how the political climate might change in the next year if enough people were to adopt this viewpoint. In fact, this whole book seems to extend comfort simultaneously to individuals and to a country and culture in transition–her own as well as ours.
We're in this together.
"Let us give gratitude for all that happens to us–especially for the hard things, for they are messengers of wisdom. And then we can loosen our grip on old ways and let our lives change. We need to let go even of those people and ways and things that we want dearly–in order for them to find their own way back to us, or for something better and more true to take their place."
____________________________________________
Dee Kehoe teaches Naka-Ima at Lost Valley Educational Center, where she has been a resident community member for the past three years.
BOOK REVIEW Falling From Grace, Returning to Grace book review by Dee Kehoe
(excerpted from Talking Leaves: A Journal of Our Evolving Ecological Culture, Volume 13, Number 2, Summer 2003, published by Lost Valley Educational Center, 81868 Lost Valley Lane, Dexter, OR 97431, www.lostvalley.org, www.talkingleaves.org, editor@talkingleaves.org, (541) 937-3351)