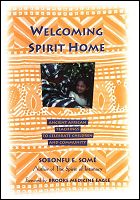 WELCOMING SPIRIT HOME
Ancient African Teachings to Celebrate Children and Community
by Sobonfu E. Some
New World Library 10/99 Paperback
ISBN: 1-57731-009-8
In the West, many children grow up feeling that they are unwanted intruders in the busy schedules of their parents and invisible strangers in the ongoing activity around them in their communities. They don't seem to have any purpose, and their existence is considered insignificant. Sobonfu Some, author of The Spirit of Intimacy, is an initiated member of the Dagara tribe of West Africa.
In this soul-stirring book filled with indigenous wisdom, she explains the all-important role of children in her tribe: They are "the life-givers, the healers, the messengers of the ancestors. They bring out the spirit of the community — they bring spirit home."
Each child, in the African view of things, is valuable and irreplaceable. Along with elders, they are the VIPs of tribal life. In order to illustrate just what this means, Some outlines nine rituals connected with the incoming soul of a child enacted during preconception, pregnancy, the birth process, and afterwards.
These rituals accent the child's purpose and his or her meaningful role in the context of the community. After reading Welcoming Spirit Home, you'll want to give more attention and intention to the celebration of your children's birth, growth, and role in the larger community. Ritual, on these pages, is the sacred path to what Some calls "continuous prayer."
____________________________________
This article can be found at http://www.spiritualityandpractice.com/books/books.php?id=1839. Reprinted with permission from SpiritualityandPractice.com